I've finally got a couple of minutes so I'm going to use this time to blog!
School has been amazing! harder that I'd initially thought but I know it will be worth it! And on that note, my nails are actually school inspired!
I loved cutting week so much that I came home and cut our daughters hair.
(
I had to keep telling her to keep her head straight she was a wiggle britches!)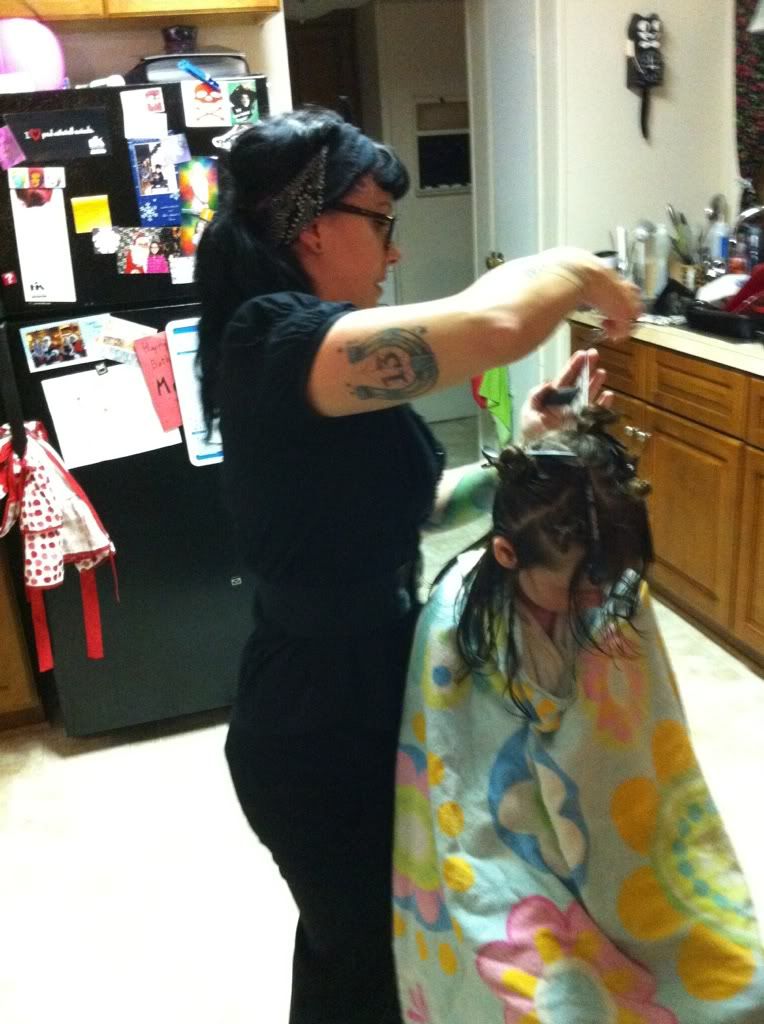 I would have cut my hubbys hair too but I need him to have a lot of hair for my men's hair cut at school coming up soon.
This is the finished look for this nail tutorial...
I used the "newspaper nails" technique, and in case you aren't sure how to do that I will explain. It's super easy and very cute. I've done this a few times, but I didn't want just regular old newspaper print, I wanted scissors, since this has been my favorite part so far! I found the scissors character using the wingding font I believe it was shift 5 and shift 7 (but don't quote me on that) then typed a bunch of different sizes printed it and used that instead of newspaper!
Okay, lets get to the tutorial shall we?
here is what you'll need:
Strips of newspaper articles , comic strip, or print off your own characters
Any light colored nail polish (whites and pastels work best)
So first polish your nails with your desired coats and let dry
Then pour some rubbing alcohol into your small glass/bowl and
Dip your (dried) nail in the rubbing alcohol (make sure you wet whole nail)
Place and press a strip of the newspaper/comic strip/printed out characters on your nail and hold firmly but careful for 30 seconds. (try not to move the strip around)
Remove strip slowly and carefully and repeat on each nail or a select few nails if desired
Finally, polish your nails with a clear top coat! I, as always use Seche Vite
this is the newspaper print version
I'm excited about how productive I was today! On top of it being my cleaning day I got laundry done organized, cleaned and decided to reupholster these stools we had with some material I had laying around the house! Here is how they turned out…
Well enough rambling for now…
I'd love to hear comments questions or ideas.